Pre K-3
Three-year-olds are incredibly active and naturally curious. Pumpkin Patch teachers work with each child to develop the core concepts used in school. Concepts taught include understanding routines, sensory exploration and advanced ideas like cause-and-effect.
Language ability also develops during this year and motor skills become more refined. Children are taught individual letters and encouraged to find items in the classroom that start with that letter.  Character-building exercises are also utilized.  For example, we learn to identify what it means to be special and to show respect – while enjoying the unique characteristics, personality and interests of every child.
Pretend play thrives during this time, and a child's ability to focus on a task is much stronger at this age.  At Pumpkin Patch, children learn special songs to make a smooth transition from one activity to the next throughout the day, and learn to model behavior when guided by our professional instructors. They're also given plenty of time to use all that boundless energy too!  Our safe, secure outdoor play area helps little ones develop gross motor skills while enjoying games and activities with their peers.
When your child can confidently handle "going potty" by him or herself and has the social, physical and emotional skills to enter a classroom-like environment, then it's time to move up to the Pumpkin Patch's 3-Year-Old area.
Activities in the Pre-K 3 program include fine motor skill development and eye/hand coordination, scientific exploration and discovery, art, music and rhythm and much more.  Guided exploration and first steps into math, reading, science and writing are made during this time, opening up a whole world of creative expression!
Children in the Pre-K 3 program are giving ample opportunities to enjoy the fresh air and sunshine outdoors while being carefully supervised and monitored by their caregivers.  And there's always plenty of love, fun and nurturing to go around!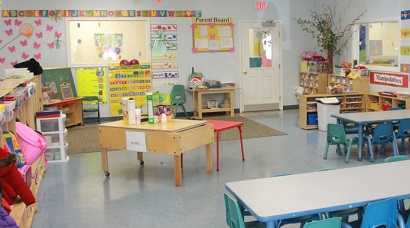 Your little learner is growing up fast, and joining the Pre-K 3 program is a milestone worth celebrating!
Here, we continue the familiar P.R.E.P. program, but enhance the experience for rapidly-developing minds and bodies. Teachers and caregivers are prepared for the occassional accident, and every transition to a different activity is made with fun and excitement, so there's never any need for anxiety, frustration or uneasiness at any stage.
Children learn hands-on skills such as recognizing letters, reading basic words, and doing basic math. Active imaginations are treated to fun arts, crafts, storytime and lots of opportunities to just be a kid and play. Throughout the Pre-K 3 program, we'll concentrate on improving eye-hand coordination, motor skills, social development and reasoning, sharing with others, and problem solving.
Fun, engaging, brightly colored environments provide your child with plenty of guided opportunities to learn, grow and explore using materials appropriate for their age.  When it's time to move up to the Pre-K 4 program, the transition will be made smoothly and carefully – keeping parents informed every step of the way.
Three year old children continue learning and growing through our exclusive P.R.E.P. program. Your child develops self-awareness, makes friends, learns the value of creative expression and much more. Activities in the P.R.E.P. program further refine motor skills with song, dance and rhythm. We sing songs, celebrate the changing of seasons and special holidays. Kids get involved with safe, scientific experiments that help foster excitement about learning new things. Language and math skills are developed through highly-recommended phonics and math programs.