School Age
Pumpkin Patch's school age programs are designed to help give kids a great start to their day at school, and help them wind down in the afternoon while providing extra assistance to complement what they're currently learning.
Before School
We warmly greet each child to help prepare them for a smooth, easy transition from home.  We give them plenty of enticing, age-appropriate activities before they get ready to go to school.  Each child is safely transported by local school buses, or by our Pumpkin Patch van. We hire professionally trained drivers who are well-versed in safety and understand that your children are priority number one.
Kindergarten Enrichment
Kindergarten students enrolled at Pumpkin Patch can benefit from our unique enrichment program.  This program enhances what they're already learning in class, and focuses on reading and writing skills, math concepts, science and problem solving skills, and multicultural/diversity studies.
After School
After school is a time to wind down and get ready for the transition back home.  Activities outside the classroom, including music, art, cooking, crafts and group projects are just a few of the many areas we'll explore.  Children enrolled in the Pumpkin Patch's after school program also enjoy fun, healthy fitness activities that will help them burn off that boundless energy!  We also encourage them to join in on different group activities, which help build teamwork, self-esteem and leadership skills in a comfortable environment.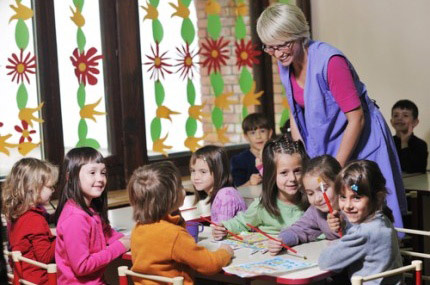 Starting Kindergarten is an exciting time, and a major milestone for your little one's development!  Whether you've been with us for only a little while, or your child has progressed through our P.R.E.P. program from the beginning, our School Age program provides a variety of experiences to help further their growth and love of learning.
Children involved in the Pumpkin Patch School Age program will enjoy making new friends while enhancing their problem-solving skills and their ability to listen and communicate effectively. Our secure area is made for comfort and educational entertainment, giving children the opportunity to explore language, reading and writing, blocks and math-related concepts, art and drama and much more.
Everything we do is centered around providing quality, exploratory programs that give your child the spark they need to succeed in school and beyond.
Learning doesn't stop just because the school day is over.  At the Pumpkin Patch, we provide a safe, comfortable environment that's built to amaze!  Our School Age program gives children the opportunity to explore, discover, create and reach their full potential.  By enhancing statewide learning objectives, our certified, professionally-trained staff will help your learner:
* Develop a love of reading with a fully-stocked library of age-appropriate books which teach important life lessons
* Explore new discoveries in art, science, dance, fitness and more by encouraging outdoor play and exploration, sensory experiments, rhythm and coordination, and much more.
* Embrace the world of technology by using the computer along with specific software programs and adult supervision.
* Understand their surroundings, including where they live – their country, city and state, as well as the weather and changing of the seasons.
The Pumpkin Patch offers before and after school programs for students as they transition to and from school. Before school, each child is gently guided into the learning centers where they begin fun, interactive activities in preparation for an exciting day ahead. Children are picked up by bus to their respective school or are driven by professional Pumpkin Patch van drivers. After school, kids get a chance to unwind with unique team-building activities, educational games, outdoor experiences, arts and crafts. These creative outlets involve your child in a wide range of interests so that they're ready to end the day on a positive note.