Pre K-4
Four Year Olds look forward to trying new things and will actively make plans and let their imagination run wild. This is also the perfect time to move beyond the basics and help your little one learn vital skills they'll use extensively throughout Kindergarten and beyond.  Pumpkin Patch teaches fundamental reading skills using the highly-acclaimed Frontline Phonics program to help kids enjoy the fun and excitement of reading on their own.
In math, children start with Kindergarten essentials mastered through the use of the award winning Singapore Math program.  They'll learn numbers, number order, more than/less than, as well as basic length and weight – helping them better explore and understand the world around them.
In addition, through one-on-one instruction your child starts on the path of handwriting mastery. The exemplary "Handwriting Without Tears" program breaks down the process of handwriting into fun, achievable, interactive goals that get kids actively involved on a variety of sensory levels.
Your child will be introduced to the concept of group and team activities, as well as board and word games. Everything Pumpkin Patch does is centered around developmental and educational learning experiences that broadens a child's mind, satisfies curiosity and instills a love of learning.
Pumpkin Patch's Pre-K  program for 4 year olds helps prepare your little pumpkin for the fun-filled excitement of Kindergarten.
The Pre-K 4 area is filled with all kinds of hands-on, visual, auditory and demonstration tools and materials.  Children will start their first journal, learn about computers and technology, and play with skill-building toys like legos, lincoln logs and puzzles.  During this time, your child will also discover the joys of reading using our highly-acclaimed phonics program, as well as learn basic math skills.
In addition, the area is filled with plenty of make-believe props, musical instruments, art supplies and other creative outlets, as well as a secure outdoor area for plenty of play and healthy exercise.
At this age, your child is increasingly mobile and energetic – with a vibrant imagination and seemingly endless fuel for play.  This is the perfect time to introduce new and exciting challenges that will give them a sense of accomplishment and help build self esteem.
Our P.R.E.P. 4 program is designed to gently guide kids into the structure of a Kindergarten classroom, along with exciting new toys that will help expand their minds, motor skills and thinking abilities.  Blocks, shapes and puzzles are ready to thrill young minds with basic math concepts such as geometric figures, weights and height, while letter and language materials encourage a love of reading and keep pace with your child's growing vocabulary.
As with all our P.R.E.P. classes, parents are always kept informed of what their child is learning and how well they're doing, so that the transition to school will be fun, easy and exciting.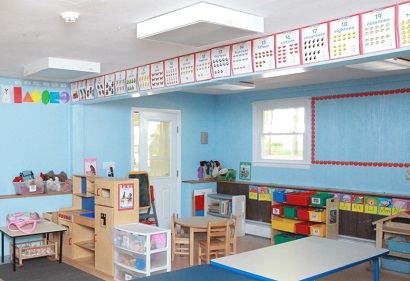 Four year olds are actively aware of their world and enjoy learning. For this age group, our curriculum is created to help give them a safe, comfortable and rewarding transition to school and a recognizable routine. We work with the award-winning Frontline Phonics program to teach reading and Singapore Math to introduce vital math concepts. We actively involve children in different learning centers so that every skill is accentuated and built upon.
Whether it's reading books, learning about weights and measures, or dabbling in creative art, there numerous fun, engaging lessons to be enjoyed. We work on keeping kids active too with playground play, creative movement as well as throwing and catching a ball. As always, parents stay involved every step of the way with helpful P.R.E.P. updates from Pumpkin Patch to keep them informed of their child's progress.