The 3 Rs (A fun preparation for kindergarten)
At Pumpkin Patch, we go beyond Reading, Writing and Arithmetic to provide your child with the very best educational foundation.  We use award-winning programs that stress the fundamentals.  The Pumpkin Patch curriculum helps give your child the support and confidence they need to excel in Kindergarten and beyond.
Why we use Frontline Phonics
This esteemed reading program builds upon your child's natural ability to associate sounds with letters, providing the foundation toward easier reading.  Even at a young age, children learn to tie words and sounds to objects, actions and pictures.  Using Frontline Phonics with our Pre-K 4 classes also allows us to uncover any reading challenges early on, preventing needless frustration and paving the way for reading success once your child reaches Kindergarten.  Children are regularly assessed as they proceed through the program, and parents are always kept informed if any difficulties are encountered.  With this unique step-by-step program, your child's ability to read will blossom as they grow, explore and discover the fascinating world of books.
Why we use Handwriting Without Tears (HWT)
Handwriting Without Tears (HWT) is an exemplary writing program that offers a multi-pronged approach to learning.  No matter how your child learns best there's a method that makes handwriting easy to grasp – literally!  Using shapes, colors and other multi-sensory inputs, children learn as they play and participate – guided along by our expert educational professionals. Children build upon each handwriting technique they learn, generating even more excitement as they continue to excel in writing.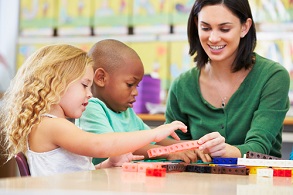 Why we use Singapore Math
Singapore Math is the pinnacle of mathematics instruction for children.  This course will help catapult your child into top math achievement scores.  Singapore Math focuses on problem solving, easy instruction and learning essential math concepts. Children progress quickly and learn to apply mathematics to real world situations.